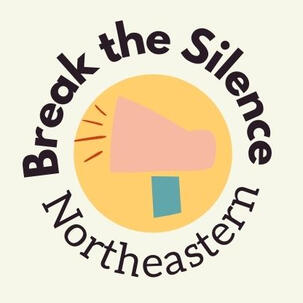 Break the Silence NU
Run by Active Minds at Northeastern
---
Our Mission
This page was created by Northeastern students of Active Minds at Northeastern in response to the ever-growing mental health crisis on our campus.

Our goals:
(1) To create a space where the Northeastern community can speak freely about their experiences with mental illness
(2) To create momentum in our campaign to improve mental health resources at Northeastern
(3) To change the culture around mental health at Northeastern
(4) To provide support to community members who are struggling or have struggled with their mental health
(5) To fight for our community members who have lost their lives to suicide.
---
How it Works
First and foremost, we are not counselors or mental health clinicians. We are Northeastern students who are passionate about mental health. If you are experiencing a mental health crisis, please seek immediate medical attention.

This page is strictly confidential. We ensure that no moderators on our team are mandated reporters.

To share your story, please fill out the Share Your Story Form and select the option to have your story shared on our Instagram. You will be prompted to create a password that will be associated with your anonymous submission. No identifying information is requested through the form.

We monitor form submissions on a consistent basis and aim to post all submissions within 10 days of receiving them. If your submission has not been posted within ten days, please contact us through the Contact Form. Know that the moderators of this account are students who are balancing school, work, and our own mental health.

Again, all submissions are completely confidential and anonymous. You will be asked to create a passcode that is anonymously linked to your submission and will allow you to contact the moderator team if you wish to have your story removed, altered, etc. Contact us at any time using our Contact Form.
---
Resources
Crisis Resources
Boston Area Rape Crisis Center: +1-800-841-8371
Samaritans Hotline: +1-877-870-4673
National Suicide Prevention Hotline: +1-800-273-8255
Crisis Text Line: Text HELP to 741741
Suicide Hotlines for Every Country
Non-Crisis Resources
This list is non-exhaustive and will be updated periodically. We always welcome you to share resources for us to include.
---
Calls for Change
We are tirelessly pushing the Northeastern administration to provide better mental health support and resources. As a group, we firmly oppose any attempts by the University to co-opt mental health into a marketing opportunity or to silence students by providing crumbs of mental health support. Our advocacy work runs through Active Minds but it is essential that we build a coalition of support across campus to fight for the needs of all students. Our work centers on the needs of BIPOC, queer, mentally ill, and disabled community members whose needs are constantly ignored by the University.

Please share your suggestions, demands, and calls for change with us via our Northeastern Call for Change form.

We call on the Northeastern administration to:

Immediately stop plans to convert singles in East Village and International Village residence halls into doubles. Density in residence halls must be capped and students need to be provided fair, adequate housing elsewhere.

Allocate private, soundproof rooms on campus for students to use for telehealth services.

End food insecurity on campus by guaranteeing 3 meals/day to all students. This was proposed by YDSA Northeastern in Spring 2021.
Current Campaigns
During the Fall 2021-Spring 2022 semester, Active Minds at Northeastern is working on separate, but related, advocacy campaigns. Please visit our Instagram page or join one of our club meetings to learn more and get involved.

(1) Improving Faculty and Staff Mental Health Training

Alter Faculty Mental Health Guide to take a proactive approach versus reactive. Among other things, this includes an emphasis on non-police methods of intervention and significant changes to the ways professors address mental health in the classroom. This includes:

Vocally establishing belief in mental illness and extent/willingness to be flexible.

Including mental health statement on syllabus.

"During this class, certain experiences or information, or real-world events could trigger symptoms such as insomnia,difficulty concentrating, or finding it hard to manage your time, or you may feel strong emotions such as anxiety, depression, anger, or frustration. If at any point of the semester, you feel you may need additional aid or emotional support, seek help at..."

"Please share any formal DRC-approved accommodations with me early in the semester. If you do not have any formal accommodations, but you have (or think you may have) anxiety, depression, learning disabilities, or other issues that affect your ability to fully participate and learn in this class, I encourage you to talk with me as you feel comfortable. On-campus resources for students are available here: https://www.northeastern.edu/uhcs/health-and-wellness/on-campus-resources/

Professors should specify about what they are willing to move around: paper/project extensions, makeup tests, attendance policy.

Professors should explicitly state their desire to want to collaborate with students and find alternatives that account for mental health challenges.

"The instructor is available to discuss with any student what accommodations would work best for this course, with or without a documented disability"

It should be mandatory to list out Northeastern mental health resources on syllabus, as well as for disability, diversity & inclusion. Professors should also include information about how to access the DRC if you have not already-- "if you want to apply for documented status…"

Professors should use trigger/content warnings on title slides of presentations and Canvas modules. These warnings should be included in class descriptions on Banner and syllabus
If a content warning is given, a standard accommodation is prepared in advance for class
UHCS should provide a list of potentially triggering topics.

Creation of workshop around how to navigate these topics with sensitivity and empathy for those who are adversely affected.

Changing to soft or rolling deadlines, a built-in extension for most assignments. Professors should specify which assignments could have extensions.

"The majority of our in-class written assignments have extended deadlines. Although there are deadlines set in the syllabus, you will be able to turn in most assignments late at no penalty, within reason"

Implementation of Mental Health First Aid course. This will teach higher education faculty to identify, understand, and respond to mental illness and substance use disorder.

(2) Improving DRC Accommodations
(3) Implementing Care Days

Active Minds has been working with the Boston Intercollegiate Government (BIG) to develop a program for Care Days on a permanent basis. You can read that proposal here. This program will allow students to request mental health days through a database that will send automated emails to professors.
(4) Acheiving IACS Accreditiation

The International Accreditation of Counseling Services (IACS) sets "the benchmark for counseling services on college and university campuses". Accredited universities are meeting the highest standards in providing mental health services on their academic campuses. You can reach the full document of guidelines here. Among the most important components of this accreditation are:
(1) Maintenance of a ratio of one professional staff member for every 1,000-1,5000 students
(2) Assurance of individual, group, and couples counseling
(3) Crisis intervention and emergency coverage services
(4) Hiring procedures reflect a commitment to hiring diverse staff who have competencies to work with students from diverse backgrounds
(5) Salaries and benefits for clinicians and staff must be on par with other institutions in the area

Achieving this accreditation is essential for Northeastern. Northeastern counseling services will be externally peer-reviewed and a nationally recognized organization will instruct UHCS on how to meet their standards. This is a win for the entire community. Students will be able to access better mental health services, UHCS clinicians will get a more manageable caseload, and the University will be able to advertise that its counseling centers are IACS accredited.

Read our full proposal here. We are in the process of submitting this proposal for SGA Spring 2022 Referenda.

Ongoing Campaigns
We continue to call on the Northeastern University Police Department to make substantial changes to their Wellness Check protocol which continues to harm and degrade many students experiencing a mental health crisis. Read our open letter to NUPD here. This letter was sent in Fall 2020 and no meaningful response has been received.

In Spring 2020, Active Minds submitted referenda to the Student Body asking if the University should increase its funding for the University Health and Counseling Center (UHCS) and if the University should provide mental health orientation programming for all incoming students. Both referenda passed with 95% support from the student body. There has been no movement on the former. The latter was implemented this past summer (2021) but has received substantial negative feedback from students.

Northeastern's Sexual Assault Response Coalition (SARC) is leading campaigns to end sexual violence in Northeastern Greek Life. In Spring 2021, SARC (@northeasternsarc) launched @neuspeakout, "a place for survivors of sexual violence at Northeastern to share their stories".
---
Contact Us
Break the Silence Northeastern is an affiliate of Active Minds at Northeastern, a student group dedicated to changing the conversation about mental illness. This page is entirely student-run. We ensure that none of our moderators or anyone who processes submissions are mandated reporters.

We welcome any feedback through our Contact Form, or you can reach us via Instagram DM @nubreakthesilence or by email at [email protected] If you would like to get involved in Active Minds, you can find us @activemindsatnu.

Please note that all members (7 individuals) of the Active Minds E-Board have access to our Gmail account. You can see who this includes here.
---